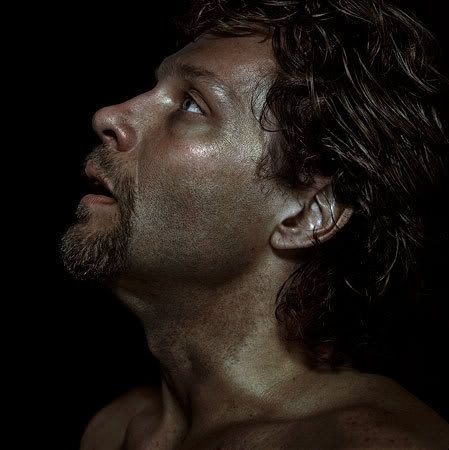 Frannie slipped off the bed and started to put the lids on the pots of paint and gathered the brushes. Jon opened his eyes, "what're you doing baby?" She tightened the lid on one of the pots, "cleaning up a little." Jon quirked an eyebrow, "why, are we done with art class?" Frannie smiled, "you want an extra credit project?" He nodded as he moved from the bed, "sure, come with me Ms. Daniels." She grabbed the other pot of paint and followed Jon into the bathroom.
Frannie set her things on the counter as Jon adjusted the water. While the tub was filling Jon reached up and took the clip from Frannie's hair, letting the dark mass tumble down around her shoulders. Standing behind her he caught her eye in the mirror, "you'll have to show me how, I've never painted anything before." He watched as her eyes darkened and the color in her cheeks heightened. "You think you can do that for me baby?" She could only nod her head, the soft cadence of his voice adding to her already aroused state.
He reached around and opened the few buttons she had done up on her shirt and slid it from her shoulders. Her nipples were already hard and he could see her need for him glistening at her center. He slid his arms around her, his hands cupping her breasts, his thumbs lightly caressing the hard tips. Frannie's eyes drifted shut and she leaned back against him, letting his touch take her. When she felt his mouth on her she opened her eyes and turned her head, meeting his mouth with hers. She tasted faintly of chocolate, cherry and him. Jon pulled his mouth from hers, "let's get in the tub." He turned them and helped her in before sliding in behind her.
Jon reached for the paintbrushes and the two pots of paint. He turned back to Frannie, "sit on the edge for me?" Frannie settled herself on the wide edge at the one side of the large tub. Jon took the chocolate paint, dipped the brush and waited. Frannie watched, "what are you waiting for?" Jon smirked, "for you to tell me what to do?" Frannie closed her eyes, "where do you want to put the paint?" He moved in front of her, "anywhere you want me to." She took a deep breath, "Put the brush on my shoulder and lightly drag it down to my breast." He did as she said, lightly drawing the brush over her skin, leaving a trail of chocolate to her nipple, where he teased the nipple and left a circle of chocolate.
"Now what?" He waited expectantly. She opened her eyes to find his deep blue ones trained on her, "dip the brush and do the same thing on the other shoulder." He did as he was told and this time when he got to her nipple he kept his touch so light she nearly whined. "Oh god Jon." He looked up at her, "what's the matter baby?" She shook her head, "no-nothing." He finished and set the brush down, "now what?" He was admiring his handiwork when she finally answered him, "lick the paint off."
Jon smiled, "I was hoping that part came next." He leaned in and, starting at her shoulder, gently licked and stroked his way down to her breast, lightly circling her nipple before sucking it into his mouth, using his tongue to make sure he got all the chocolate off. When he took her other nipple into his mouth her release washed over her. She trembled under him as he finished licking the chocolate away. Reaching over he picked up the paint brush and dipped it again. "Now what?"
Frannie wasn't sure she could take anymore, but when she opened her eyes and saw Jon waiting for her answer, she shifted her position and found herself answering him, "stroke the brush up my leg." He picked up her leg and started at her ankle, stroking up, circling the side of her knee, lightly brushing up the inside of her thigh, stopping just short of her mound. "Any where else?" Frannie opened her mouth but she couldn't make any her tongue work. She reached for his hand. He stopped her, "uh-uh, talk to me baby, tell me what you want."
Frannie tried again to tell him, "my clit Jon, stroke the brush over me, please." She leaned back against the wall as he moved her legs apart, the brush barely touching her as he moved it across her. Her hips jerked and he pulled the brush back, "Frannie?" She whimpered, "please don't stop." He stroked the brush over her again, this time with slightly more pressure. She was so close, "more Jon, please."
He set the brush down, "I think its time for me to clean up my mess." Her eyes flew open when she felt his mouth on her ankle, he worked his way up her leg, making sure to get every last bit of chocolate. When he got to her inner thigh she thought she was going to burst. His tongue coasted over her, cleaning the paint from every nook, leaving her trembling. When his mouth closed over the swollen nub her hips arched and she screamed through her orgasm. He eased back from her, his cock achingly hard.
"Come here baby" he pulled her down into the water and on to his aching shaft. He helped her move on him, his hands at her hips moving her up and down. Their mouths met and he pulled her down onto him one last time and she felt him explode inside her.